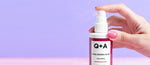 Everyone loves a multi-use product – not only does it feel like you're getting some serious value for money, but it keeps your regime simple, just how we like it here at Q+A! In my opinion, there is no better multi-tasking product than the humble face mist, which is taking the skincare world by storm (and rightly so!).
So, where does this sudden obsession with face mists come from? A mere 5,396 miles away… go for a stroll in any Korean city and chances are, you'll catch someone spritzing their skin with a face mist. 24/7 hydration is big in K-Beauty, and a face mist allows you to hydrate on-the-go, as well as giving you a highly desirable fresh and dewy complexion, win-win!
The benefits of face mists vary, depending on the ingredients they are formulated with, but hydration is always star of the show. When your skin is dehydrated, it not only appears dull and lacklustre, but its protective barrier weakens, eventually leading to the breakdown of collagen and elastin – yikes! By keeping your skin as hydrated as possible with regular misting, you're setting yourself up for a glowy complexion. Our water-based Hyaluronic Acid Face Mist contains a multitude of hydrating hero ingredients, like HA and Aloe Vera, plus prebiotic Inulin and Fructose which help to strengthen the skin barrier, perfect for when your skin is feeling a dry and defeated. Not only amazing for hydration, face mists are thought to help restore balance to your complexion. A common belief in Korea is oil production increases with a rise in skin temperature. So, if your face feels hot, consequences can appear in the form of oiliness and breakouts. This is when mists become especially helpful, particularly in warm weather climates since they cool skin on contact.
As I mentioned earlier, face mists are one of the best multitaskers out there. Here are our four favourite ways to use a facial mist…
On-the-go hydration
Keep a face mist in your car, at the office or in your handbag. Regularly hydrating your skin is the easiest way to ensure a fresh and supple complexion. Plus, it instantly gives your skin a wake-up thanks to that lovely cooling sensation!
If you're lucky enough to be boarding a plane anytime soon a face mist is an essential product in your on-flight skincare kit. Planes are moisture-sucking monsters, and even a few hours on board can be enough to sap your skin of essential moisture, so make sure to counteract dryness with regular use of your face mist. Our Hyaluronic Acid Face Mist comes in a 100ml, flight-safe spray, so there's no risk of having it confiscated as you head to the departure lounge!
Under your serum or moisturiser for maximum absorption
Get the most out of your evening moisturiser by dampening the skin with your face mist right before application. Damp skin allows faster product penetration, meaning your thicker night creams can quickly soak into skin and get to work as you sleep! As you may know from a blog many moons ago, Hyaluronic Acid works best when applied to damp skin, so if you use this ingredient anywhere in your regime, it's worth investing in a face mist!  
To prep your skin for makeup and avoid a cakey finish…
Applying a layer of face mist can create a hydrated and smoother canvas for your foundation, without the need for a heavy primer. And if you've overdone it a little with the face powder (don't worry, we've all been there), a spritz of mist over the top of your makeup can help you blend in excess product for a more natural finish.
To make your beauty tools more effective
I love to dampen my makeup sponge with a face mist, rather than running it under the tap. This avoids the sponge becoming over-saturated with water, which can lead to a patchy finish!
It may not be an essential step like cleansing and applying SPF, but this super versatile skincare product is a convenient way to give your skin an extra boost and an instant and enviable glow!
Lucy @ Team Q+A
 

lucy.wickham@ellipsisbrands.com

Q+A's Brand Marketing Coordinator