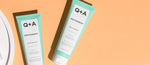 When Q+A launched, we had one wonderful cleanser, and so building your Q+A routine was a piece of cake. But in just over a year, we have added three more amazing cleansers to the Q+A line-up! With that in mind, we thought a little guide to finding the cleanser that is perfectly suited to your skin may come in handy…
Peppermint Daily Cleanser
Best skin types: Oily, Combination, Stressed, Normal 
Great for: Congestion, blackheads, dullness
For those of us who want a cleanser with hardworking ingredients which doesn't strip your skin of moisture, the Peppermint Daily Cleanser is a no brainer. Studies have suggested Peppermint Oil has strong antibacterial properties, these complimented with the natural surfactants, help target bacterial build up, which can lead to congestion and clogged pores; this cleanser gives your skin a deep clean, that is for sure! Plus, who doesn't love its signature minty freshness! The natural Coco-Sulfate makes for a soft, gentle lather which leaves your skin feeling clean without any tightness, perfect for anyone who finds their current cleanser a little drying.
Hyaluronic Acid Hydrating Cleanser
Best skin types: Dry, Stressed, Sensitive, Mature, Normal 
Great for: Dehydrated or patchy skin, reactive skin
If cleansing has ever been an issue for you, whether it left your skin begging for moisture, or flaring up, let the Hyaluronic Acid Hydrating Cleanser be the cleanser of your dreams. Coco Betaine strikes up the lather whilst our two molecular weights of Hyaluronic Acid boost hydration levels. The larger weight conditions the surface of your skin, softening and soothing dry patches, whilst the smaller weight absorbs deep within your skin cells to help hydrate from within. Hyaluronic Acid is great for replenishing lost moisture, resulting in firmer and plumper skin, so this cleanser is perfect for anyone concerned with dryness and fine lines. The gentle blend of ingredients, including soothing Aloe Vera and a water base, make it the perfect cleanser for reactive skin.
Removing your makeup is a must, but it's not the only thing you might want to remove at the end of the day! Daily products, SPF, and excess oils can all benefit from a double cleansing routine to ensure super clear and clean skin. You could use these cleansers on their own but pairing them up with our Hyaluronic Acid Hydrating Cleanser or Peppermint Daily Cleanser will result in a deeper cleanse!
Grapefruit Cleansing Balm
Best skin types: Oily, Combination, Normal, Dry
Great for: Removing a full face of makeup, waterproof makeup
If you love to feel your makeup simply melt away from your skin, say hello to the Grapefruit Cleansing Balm. Grapefruit is high in Vitamin C, giving a great brightening effect to dull skin and keeping your skin biome balanced and happy. Squalane is a fantastic moisturising ingredient for oily and combo skin, along with drier skin types. We already have Squal(e)ne in our skin cells, as such, it makes it a highly combatable ingredient, so no oily sensation left on skin!  Not to mention, this cleansing balm has a gorgeous and relaxing aroma!
If you're already well-versed in Q+A cleansers, you might already have a favourite combo! Let us know if there's a duo you just can't live without. If not, well, I hope you're feeling equipped to perfect your cleansing routine, tailored without fault to your skin type and concerns. 
Amy @ Team Q+A
 

 

amy.robson@ellipsisbrands.com

Aspiring author, craft addict, and Q+A's eCommerce Coordinator