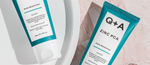 Moisturisers, the staple of many a routine, and incredibly important for keeping your skin healthy and hydrated! But which one to choose? If you've had a look and can't decide between our five moisturisers, or even if there's two you just can't pick between, this is the blog for you. It's more than just about moisture, it's to make sure you're using a product that tackles your other skin concerns, too!
5-HTP Face & Neck Cream
Best skin types: Mature, Normal
 Great for: Pollution protection, anti-ageing
Weathered, sun-baked and perhaps a little tough to the touch. No, not your skin, the Griffonia Plant! Native to the shrublands of Africa, this resilient plant has developed the ability to protect itself from environmental stressors, an ability that transfers to our 5-HTP Face & Neck Cream through the Griffonia Seeds. So, if your skin is looking or feeling a little lacklustre, or you're a person who spends a lot of time outside, this is the moisturiser for you. It's lightweight enough for daily use, but moisturising enough to hydrate skin overnight, making it an ideal choice if you're looking to synchronise your AM and PM regime!
But the fun doesn't end there, with a little help from Caffeine, this cream helps to increase circulation, which can speed up skin repair and bring down puffiness for a brighter, healthier looking complexion! Finally, one of our favourite overachievers, Biossacharide Gum, comes in to rejuvenate your skin. Its SMART performance (Soothing, Moisturising, Anti-Ageing, Restructuring, Touch – check out this blog for the full summary) stimulates skin repair and protects against oxidative stress - perfect for mature skin - as well as deeply moisturising and softening your skin.
Rejuvenation is 5-HTP's middle name!
Chamomile Night Cream
Best skin types: Sensitive, Stressed
 Great for: Calming, anti-irritation
Chamomile Night Cream is the 'warm bubble bath' and 'soothing sounds of nature' of moisturisers. Take a step back and let your skin completely relax, with all your skin troubles addressed! The Chamomile flower extract is just as soothing for your skin as your tummy at teatime, thanks to the presence of calming Bisabolol. This ingredient, targets irritation and discomfort, as well as helping to minimise hyperpigmentation. We add extra Bisabolol into our night cream for a super-soothing experience. If you find your skin feeling sensitive, or easily flared up at the end of the day, this night cream has you covered!
We also formulate with skin-identical (meaning its makeup is very similar to the oils in our skin and therefore easily tolerated) Jojoba Oil, for deep hydration, increased suppleness, and a protective film against irritants and pollutants in the atmosphere. Plus, as it's so similar to the oils in our own skin, it's well tolerated by all skin types, including sensitive!
Collagen Face Cream
Best skin types: Dry, Sensitive, Mature
 Great for: Dehydration, protection
The richest cream in the Q+A moisturiser line up, Collagen Face Cream knows how to treat your skin! A moisturising base of Shea Butter, Cocoa Butter and Beeswax brings essential moisture to your skin, soothing dry and patchy areas and strengthening your natural skin barrier to prevent TEWL (Trans-epidermal Water Loss).
We love our Collagen and Peptide actives of course, with these seaweed-derived alternatives helping to plump and reduce the signs of ageing, for a rejuvenating youthful glow! And if you're feeling like your complexion is looking fatigued, Magnesium PCA is here to help - anti-fatigue and skin energising, you can look forward to bright, resilient but mostly importantly, deeply moisturised skin.
Ginger Root Daily Moisturiser
Best skin types: Normal, Combination, Mature
 Great for: Balanced skin tone, protection
Everything about this cream says, 'bright and happy' (especially your skin after use)! Ginger Root is an antioxidant, helping to reduce dullness and signs of ageing caused by UV exposure and free radicals, as well as generally evening skin tone. Super hydrating Tocopherol nourishes your complexion, and paired with a light-weight Aloe Vera, ensures all the moisture you need is easily absorbed, leaving only a thin but effective extra layer of protection to keep your skin looking just as fresh all day long.
A natural all-rounder, Ginger Root Daily Moisturiser is perfect for normal skin without too many concerns, mature skin, and combo skin (although it's not picky!)
Zinc PCA Daily Moisturiser
Best skin types: Oily, Combination
 Great for: Minimising blemishes, anti-breakout
Our latest edition to the moisturiser line up, Zinc PCA Daily Moisturiser is the answer to 'I have oily skin, should I be moisturising?' Absolutely! Zinc PCA is great for balancing oil levels in the skin (and that goes both ways, so don't worry about those dry patches if you're combo) to keep congestion and shininess to a minimum, alongside reducing redness and enlarged pores. Then we add Niacinamide, another oily skin favourite, to help reduce and calm blemishes, even out fine lines and skin tone, and improve the appearance of breakouts. Finally, Ginseng is your overall skin health guru - brightening, protecting and rejuvenating your complexion! With super-fast absorption and no greasy film thanks to its non-comedogenic base, oily and combo skin types can enjoy a natural, non-oily, glow!
If you love the Niacinamide Daily Toner or Zinc PCA Facial Serum, this daily moisturiser will slot seamlessly into your regime.
Don't worry, if more than one of these amazing moisturisers sounds like the right fit for your skin, there's nothing wrong with using one for the morning and one for the evening! We recommend you apply your calming, repairing one before bed, and your brightening, protecting one before you head out the door! Unsure? Just drop us a message and we're always happy to help.
Amy @ Team Q+A
 

 

amy.robson@ellipsisbrands.com

Aspiring author, craft addict, and Q+A's eCommerce Coordinator