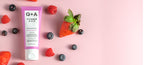 Berries, like many of our favourite natural ingredients, fall under the category of foods just as amazing for your skin as they are to eat. With some enjoying superfood status, like the blueberry, it's not hard to see why! So let's take a closer look at the skin benefit of berries…  
The main reason we at Q+A love berries is for their antioxidant activity. Antioxidants are chemical compounds that seek out and neutralise free radicals, preventing them from triggering a reaction called oxidative stress. Oxidative stress can lead to the breakdown of collagen, premature ageing, and cell damage - all things we'd like to avoid. There are different types of antioxidants, but the most commonly found in berries, are polyphenols. Some notable polyphenols are flavonoids (which causes the dark colouring in some fruit, like blackcurrants) and phenolic acid.
Berries can protect our complexion against environmental stressors, in the same way plants keep themselves safe from the environment as they're growing. Protection means our natural skin barrier gets a chance to take a breather, strengthening up to keep bad things out, and keep essential moisture in. Plus, antioxidants are great for relieving skin discomfort and keeping fine lines at bay. Berries = bright and resilient skin!
Many of our favourite berries contain a collection of vitamins, minerals and fatty acids which nourish and soften our complexions. They're rich in Vitamins A, C & E which is responsible for improving healthy cell turn over and speeding up skin repair. Vitamins can also help to even skin tone for a smooth and supple complexion.
Now you might be thinking, Vitamins A, C & E, that sounds familiar... Our Vitamin A.C.E. Warming Gel Mask is packed with nutrient rich berries, including Camu Camu, Strawberry, Blackcurrant, Cranberry, Acai and Pomegranate (yes, technically a berry!). Cranberry has been touted for its ability to calm the discomfort that comes with dry skin conditions, and fight against breakout-causing bacteria, making it a great ingredient for both dry and oily skin types. Blackcurrant, on the other hand, has a super high Gamma-linoleic acid content, an essential fatty acid which can help restore damaged and ageing skin. The great thing about formulating with an array of berries is that they all compliment and boost each other's benefits.
These powerhouse ingredients can also be found in our Super Food Facial Oil, containing all the goodness of Camu Camu, Cranberry, Raspberry, Blackcurrant, Strawberry and Pomegranate. You'll also find Pomegranate in our Caffeine Eye Serum, packed with antioxidants to brighten and protect your under-eye area, and Tasmanian Pepperberry in our Green Tea Daily Toner, which is super soothing for sensitive skin and helps to promote a healthier complexion!
A study by Driscoll found that more than 85% of consumers agree that eating berries made them happy, but we're pretty certain that adding them to your skincare regime can boost this even further! What could lift your spirits better than waking up to beaming skin every morning?
Amy @ Team Q+A
 

 

amy.robson@ellipsisbrands.com

Aspiring author, craft addict, and Q+A's eCommerce Coordinator